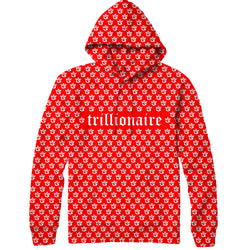 TRILLIONAIRE RED HOODIE - TMMG
- Each items is cut and sew by us especially for you :)

- Your hoodie will look awesome for years to come.
- Premium TRILLIONAIRE RED HOODIE pre-shrink poly/fleece garment, Great fit
- Super comfort and no shrinkage
Be unique & different!
This amazing Trillionaire hoodie reflects the lifestyle of a trillionaire mind from Haiti; locate, update, secure, share, value. This luxury unisex fashion Trillionaire lifestyle Hoodie made by TMMG Clothing Brand that offer luxury hoodies made of high-quality materials.
TRILLIONAIRE hoodie made from a heavyweight fabric and is designed with a hood to provide warmth and protection from the elements. This unique Trillionaire TMMG Hoodie feature the logo of TMMG all over front and back with the TRILLIONAIRE text in money style in the front to show off the wealth status of the mind.