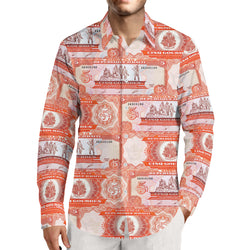 TMMG LUXURY HAITI VINTAGE 1989 HAITIAN MONEY CINQ GOURDES DRESS SHIRT
- Each item is cut and sewn by us especially for you :) 
- Your Luxury TMMG LUXURY HAITI VINTAGE 1989 HAITIAN MONEY CINQ GOURDES DRESS SHIRT
will look awesome for years to come. 
- Premium pre-shrunk dry fit polyester that has the feeling your skin loves. 
- Our garment keeps you cool and dry fit 
- Super comfort and no shrinkage
Made in USA
SIZE INFO 
True to size.
Considered a regular fit; fitted through the chest, armholes and sides.
US regular sizes: Small, Medium, Large, X-Large, 2XLarge 
 
DETAILS & CARE
The TMMG designers suggest a normal wash cycle with hang to dry for longevity of your lovely item.
Payment plan available at the check out.