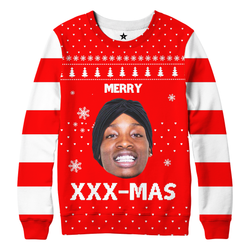 SPIRIT SOLDIER KIDD CHRISTMAS SWEATER 2023
Soldier Kidd is a buzzing 23-year-old Haitian Rapper from Del Ray Beach, FL. His distinct vocal styling, southern swag and superstar charisma brought success on his early releases such as "Better Be", "Thug Cry", "Thug Paradise 1 & 2", and "Grand Theft
The number one, and the most trending rapper from Florida RIGHT NOW! He is keep focusing on his talents/crafts while leading the industry to a bigger place! 
BE SURE TO SHOP THIS LIMITED CHRISTMAS SWEATER THAT WILL BE LAST FOREVER, AND FOR YEARS TO COME.... ALSO, LATER IT CAN BE PASS ON TO YOUR FAVORITE ONES TO CONTRIBUTE BY KEEPING THE SOLDIER KIDD LEGACY ALIVE OR TO KEEP AS A FOREVER COLLECTIVE SOUVENIR! 
Soldier Kidd: West Palm Beach, Florida United Sates - May 5, 2020 - Hip-Hop/Rap
Turn Around Time is within 7 to 14 Business Days for the special Soldier Kidd Christmas Sweater Souvenir! 
- (Fast Past Manufactures Production suggested retail that price)

- Each item is cut and sew by us especially for you :)
- Your SOLDIER KIDD CHRISTMAS SWEATER 2023 by TMMG-STARZLOCKER will look awesome for years to come.
- Premium pre-shrink fleece garment Great fit, The best existed garment for Christmas Sweater!
- Super comfort and no shrinkage
Shop Yours Now and Thank you for contributing towards SOLDIER KIDD Legacy!
MADE IN USA-FL