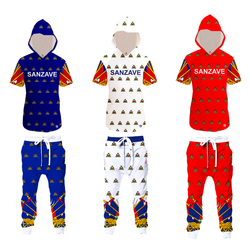 #SANZAVE is not just a Hit Single but a Movement you need to represent 🇭🇹 
TMMG™️ is so proud to partner with Haitian Fresh on this Exclusive project.
We came together to create this collection for you to love it as much as we do. 
If you are a true SANZAVE this astonishing collection is for YOU!
Be sure to get it now so you can receive it by May 18th to rep on Haitian Flag Day.
While you're waiting you can go ahead and bump this New Haitian Fresh hit single Ft Zoey Dollaz. It's available on all major music platforms.
Art & Fashion is another way to define The Miami Based Haitian Clothing Brand TMMG. We do it to keep the Haitian Culture alive by providing consistent value, and to provide you with the best Haitian Clothes. Shop TMMG for a way to represent the Haitian Culture in your everyday life.
Expand your wardrobe with culturally diverse and unique designs from the based Haitian Brand TMMG™ worn by the hottest Haitian celebrities, & Social Media Influencers.

We are please to provide you with MUST HAVE styles for every fashion experience you desire. Year after Year our designers are striving to be more creative in bring you a piece of history into today's hottest fashion.

 
Loved by heavyweight Haitian American champion boxer Bermane Stiverne
Loved by lightweight Haitian American female champion boxer Melissa St-vil
Worn on stage by Haitian Mega Star Wyclef Jean
Repped by Haitian Fresh, We Them Zoes, Gato Da Bato & Booba
Admired by Haitian American Rapper Kodak Black, Jackboy, Soldier Kid, Kiddo Marv, Mirror Monk, and more Haitian American Rappers from Miami.
Rocked by all your favorite hottest Haitian artist such as T-Vice, Djakout, Rock Fam, Izolan from Barikad, Dj Tony Mix, RoodyRoodboy & MANY MORE...

Now it's your turn to join the celebration!